Readers, Anthologies

1. J. Gera (ed.): Németalföldi irodalom a középkorban. (Literature of the Low Countries in the Middle Ages) Szöveggyűjtemény. ELTE, Budapest, 1984
2. J. Gera (ed.): Holland irodalom a 17. században. (Dutch Literature in the 17th Century) Szöveggyűjtemény. ELTE, Budapest, 1988
3. J. Gera (ed.): Holland irodalom a 19. században. (Dutch Literature in the 19th Century) Szöveggyűjtemény. ELTE, Budapest, 1995
4. J. Gera, W. Swaan (eds.): Modern holland-flamand költészet. (Modern Dutch-Flemish Poetry) Szöveggyűjtemény. ELTE, Budapest, 1996
5. J. Gera (ed.): Holland-flamand szimbolista költészet. (Dutch-Flemish Symbolist Poetry) Szöveggyűjtemény. ELTE, Budapest, 1997
6. J. Gera, I. Németh (eds.): Tizenhetedik századi németalföldi festészet. (17th Century Dutch Painting) Szöveggyűjtemény. ELTE, Budapest, 1997
7. J. Gera (ed.): Enteriőr oroszlánnal. Holland-flamand elbeszélések. (Interior with Lion. Dutch-Flemish Short Stories) Műfordításantológia. ELTE, Budapest, 1993
8. A. Daróczi, J. Gera (eds.): A lepke. Holland-flamand elbeszélések. (The Butterfly. Dutch-Flemish Short Stories) Műfordításantológia. ELTE, Budapest, 1995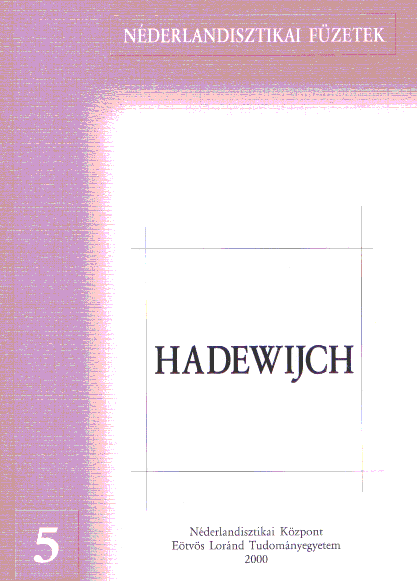 Néderlandisztikai Füzetek
(Papers in Dutch Studies)
Editor in Chief: Judit Gera
No 1     T. Balogh: Az elveszett paradicsom. Nijhoff és Huizinga (Paradise Lost. Nijhoff and Huizinga), 1997.

No 2     G. Benedicty (ed.): Eric de Kuyper - Mama, 1998.

No 3     E. Mollay: A holland-magyar kéziszótár szerkesztési elvei (Editorial Principals of the Dutch-Hungarian Dictionary), 1998.

No 4     T. Balogh, J. Gera, K. Törõ: Huizinga, 1999.

No 5     Daróczi Anikó, Balogh Tamás: Hadewijch, 2000